VLASTA ČIHÁKOVÁ NOSHIRO BYLA VYZNAMENÁNA ŘÁDEM VYCHÁZEJÍCÍHO SLUNCE SE ZLATÝMI PAPRSKY A ROZETOU
Kurátorce Galerie kritiků a předsedkyni Sdružení výtvarných kritiků a teoretiků, Mgr. Vlastě Čihákové Noshiro Ph.D., byl z rukou japonského velvyslance, Jeho Excelence pana Kaoru Shimazaki, dne 30. listopadu 2017 slavnostně předán "Řád vycházejícího slunce se zlatými paprsky a rozetou", udělený japonským císařem za zásluhy o spolupráci v kultuře. Jedná se o první národní japonský řád, založený v roce 1875 císařem Meidži, pro civilní příjemce japonských ocenění nejvýše dosažitelný, který dosud získalo pouze dvanáct Čechů. Od roku 2003 byl po reformě zpřístupněn i ženám, jednou z prvních oceněných byla paní Věra Čáslavská. Reference k životopisu a činnosti Mgr. Vlasty Čihákové Noshiro Ph.D. naleznete na www.vlasta-cihakova-noshiro.com. Na předvánoční slavnostní přípitek v Galerii kritiků zašleme pozvánku.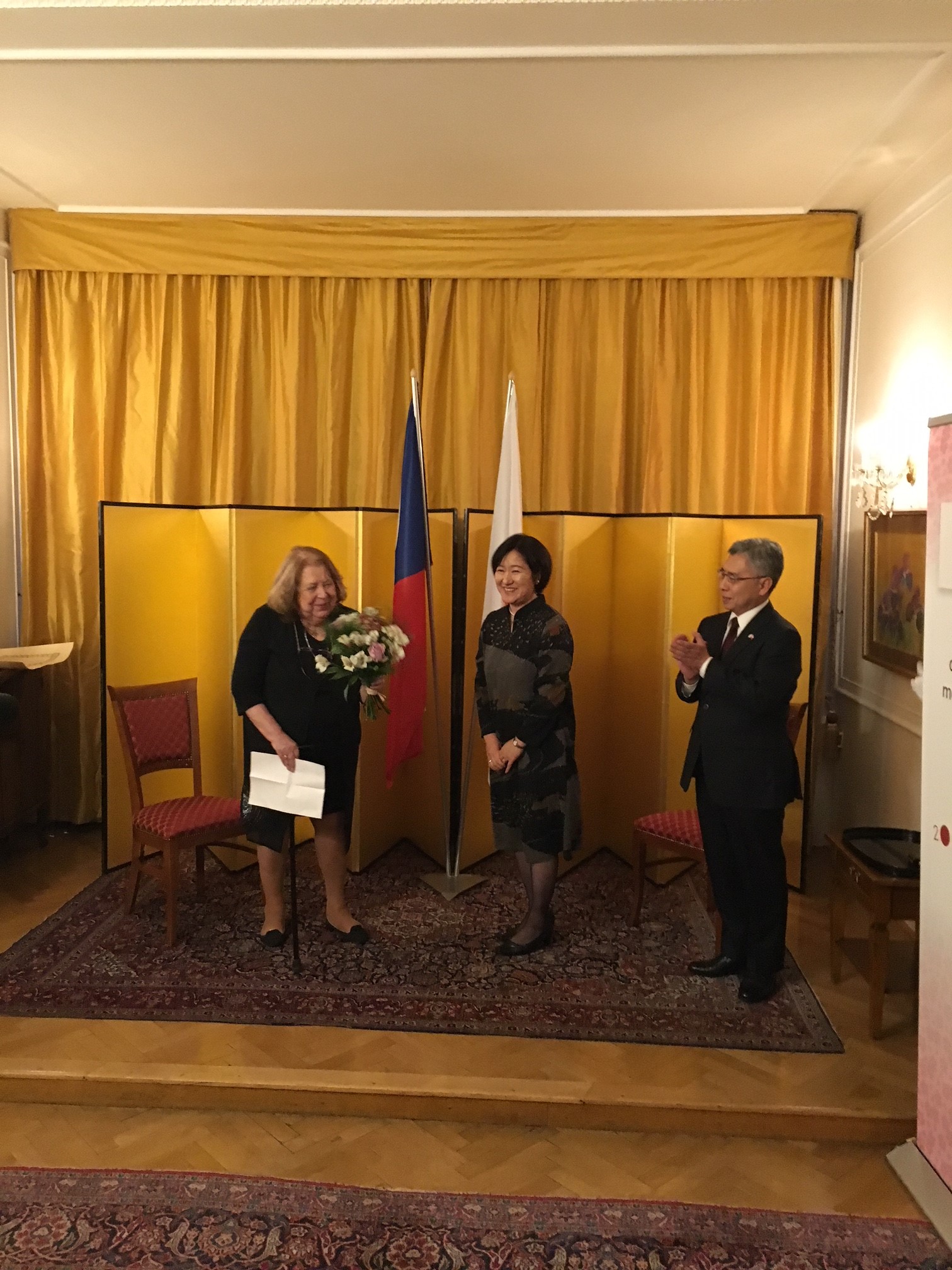 PETICE PROTI SLOUČENÍ GALERIE S MUZEEM V MOSTĚ
Ahoj přátelé, kamarádi, umělci, galeristé, kurátoři a aktivní lidé,
srdečně Vás žádám o podporu ve snaze zastavit sloučení Galerie výtvarného umění v Mostě s Oblastním muzeem v Mostě (podporu můžete vyjádřit v přiložené petici - https://www.petice24.com/petice_slouceni_galerie_muzeum_most). Myslíme si, že toto sloučení bude pro galerii likvidační. Naše komunistické vedení kraje se rozhodlo jako za starých časů postupně likvidovat živou kulturu. Z neoficiálních zdrojů se k nám též doneslo, že v jednání je do budoucna galerii zrušit a propojení vyřešit stálou expozicí Starého Mostu v prostorách nynější galerie. Celé této anabázi předcházelo dosti podivné a nepodložené odvolání pěti ředitelů muzeí a galerií v Ústeckém kraji. Níže zasílám odkaz na několik článků, které se týkají nesmyslného slučování a odvolávání. Na vedení kraje jsme již zaslali otevřený dopis, kde předkládáme odborné argumenty proti slučování. Petici potom předložíme vedení kraje a zastupitelům před prosincovým jednáním zastupitelstva Ústeckého kraje, kde by se mělo o slučování organizací jednat.
Díky za Vaši případnou podporu a aktivní postoj.
Luděk Prošek - galerista, umělec, pedagog
http://hlidacipes.org/cistka-galeriich-moste-se-hledani-noveho-reditele-zhroutilo-kraj-pripravuje-slouceni-galerie-muzeem/
http://hlidacipes.org/pomsta-za-tibet-kraj/
http://www.ceskatelevize.cz/ct24/regiony/2168518-kraj-odvolal-pet-reditelu-galerii-a-muzei-jeden-z-nich-mluvi-o-trestu-za-vystavu-o
http://hlidacipes.org/fraska-chomutovskem-muzeu-odvolany-reditel-vyhral-novy-konkurs-rada-odmitla/
https://mostecky.denik.cz/zpravy_region/kdybych-se-prihlasil-poplival-bych-svou-praci-rika-koncici-reditel-galerie-20171003.html
Academia TOP PAPERS FROM YOUR NEWSFEED
CULTURE ACTION EUROPE

I  New Cultural Challenges for European Cities
II   Urban Postcards from Habitat III
III   Reporting from the Global Front
IV   Culture & Cities: from Infrastructure to Sociostructure
V   Build the City: for the People, with the People
VI   Fun Palaces: Where Everyone is an Artist
VII Reflections on the Future of the City
By Robert Manchin, CAE president and acting Secretary General
We bring to you a collection of reflections on the cultural challenges of our cities. The reason is obvious; in the midst of globalisation we see that it is the cities, where we can crystallise and combine our strength. We will continue the discussions on how to shape the future urban quality of life in our next Beyond the Obvious gathering. You will have a chance to meet most of the authors of this newsletter in Budapest. Together with urban innovators, practitioners and thinkers we will explore ways to strengthen the cultural sustainability of our cities.
What drives this global transformation is migration. European urban growth is also migration driven, making cities more diverse and vibrant places. Next to metropolises, our continent is culturally defined by the rich traditions of the mid and small cities. In the large cities the challenge is how to keep together an archipelago of different cultural identities. While in most smaller cities newcomers and locals are facing the cultural dilemma whether or not to become fully local with a civic pride. Can one preserve its own cultural identity? If a nationstate demands to adhere to a Leitkultur, can attachment to a city be an alternative?
Working across networks we all experience that cities have distinctive identities. Cities have different spirits that provide their residents emotional energy. Urban pride is a key feature of cultural identities today. Cities with a clear ethos can better resist homogenising tendencies of globalisation. It can be worrying when nations proclaim their timeless and organic ideals, but affirming a city´s particularity can be a sign of health.
None of this is new. Aristotle said already that "A great city is not to be confounded with a populous one." Plato added proudly "This City is what it is because our citizens are what they are."
We can work on this together and we can nurture how the civic pride can be oriented towards the future. Hope you find the contributions in the Newsletter as a good resource.
By Julie Hervé, EUROCITIES policy advisor
Many European cities already recognise the importance of culture and the creative industries for local development. Culture is integrated into their strategies in a range of areas, such as innovation, branding, tourism and social inclusion. But developing and implementing cultural strategies that make a real impact to economic development and social cohesion remains a challenge for cities. Several factors need to be in place to deliver the desired results, including: strong political will and leadership, a cooperation strategy between local and regional bodies, cooperation between various local actors from the public and private spheres, and capacity building measures involving stakeholders and experts.
By Jordi Pascual, Agenda21 for Culture
On 20 October 2016, the UN Conference on Housing and Sustainable Urban Development (Habitat III) adopted the New Urban Agenda, a document which is expected to provide guidance on the development of urban policies around the world for the next 20 years.
Why is the New Urban Agenda a significant document and why does it remain a weak instrument? What are the lessons we learned as a global cultural community?
By Nicholas Anastasopoulos, architect and professor at NTUA
We have already passed the tipping point in which more than half of the earth's population lives in urban conditions. As urbanisation is a trend which will only intensify, and as climate change is becoming a threat to life itself, we have entered what is now known as the Anthropocene, a geological epoch identified by a term which recognises the unprecedented impact humans have on the surface of the earth and on its atmosphere. Alternatively this has euphemistically been called the "City of 7 Billion". This means that we need to intensify our efforts and focus much of our research and resources towards a better understanding of the complex and often controversial nature of cities in order to seek answers to the most pressing questions of the urban condition.
By Rosa Pérez Monclús and Carla Schiavone, Culture Action Europe
Culture Action Europe (CAE) actively promotes the inclusion of culture as a pillar for sustainable development. Jointly with a wider coalition of civil society organisations, we advocated for the inclusion of culture in Rio+20 and culture. Advocating for Culture as a Pillar of Sustainability, in United Nations' 2030 Agenda and in the Sustainable Development Goals (SDGs) and recently for its inclusion in the New Urban Agenda. These advocacy efforts remain on-going and so is our learning process. This article is an attempt to analyse the main findings and to highlight some commonalities we found in different initiatives CAE implemented. By doing so we aim to explore and facilitate the development of new cultural policies for sustainable urban development.
By Tsveta Andreeva, European Cultural Foundation
Including citizens and communities in decision-making creates wider support for implementing legislation, providing out-of-the-box solutions and strengthening democratic legitimacy. Culture contributes to this by engaging and inspiring people, challenging stereotypes and catalysing the social revitalisation of urban commons. This is essential for building more equitable and sustainable future for our diverse communities. In 2016, ECF engaged in a mapping exercise of best-practices that culminated in the publication of a Magazine compiling 26 civil-public partnerships based on principles of the commons. Based on the analysis of these cases we can now present evidence of how to build a city for the people, with the people.
By Stella Duffy, Fun Palaces
I write this in the week that Donald Trump has been elected the next President of America. It is four months since Britain voted for Brexit. I write as someone brought up white working class, who is now being told that the white working class, the white poor, the white disaffected made these choices. I look at the statistics and I see this is partly true – but I also see that many wealthy people voted for Trump and for Brexit, some people of colour voted for Trump and for Brexit. The statistics show clearly that many in our UK cities did not vote for Brexit and many in US cities did not vote for Trump. There is a growing divide. After three years of working on our exponentially-growing Fun Palaces campaign I see what we are doing as a step towards healing these divisions.
By Anna Vondracek, Centre for Fine Arts, Brussels (BOZAR)
Like most of its peers, the Centre for Fine Arts Brussels (BOZAR) is deeply embedded in the history and urban fabric of its city. Together with other cultural institutions, civil society organisations, schools, universities and the local and regional political actors, we shape our urban reality and our perception of the city itself. The constant question of "what kind of cultural programming do we need in our city?" goes hand in hand with the question "what city do we want to live in?" These questions have defined our activities in the past and will continue to guide our present considerations and future vision.