Otevřený dopis ministru kultury panu Antonínu Staňkovi
Otevřený dopis  ministru kultury panu Antonínu Staňkovi, náměstkyni paní Kateřině Kalistové a řediteli odboru umění, literatury a knihoven MKČR, panu Milanu Němečkovi,
Ministerstvo kultury ČR, Maltézské nám.1, 118 99 Praha 1
Od: Sdružení výtvarných kritiků a teoretiků, Palác Adria, Jungmannova 31/36,110 00 Praha 1
Věc:  " porno versus obraz" - námitka proti hodnocení Ceny kritiky za mladou malbu grantovou komisí odboru umění, literatury a knihoven MKČR, ve srovnání s Cenou Jindřicha Chalupeckého
                                                                                                                 V Praze, 12. 3. 2019
Vážený pane ministře, vážení představitelé Ministerstva kultury ČR,
Sdružení výtvarných kritiků a teoretiků jako hlavní pořadatel Ceny kritiky za mladou malbu uvádí mladé umělce do 30 let na profesionální uměleckou scénu. Považuje proto za nutné vyjádřit se k opakovanému odmítání grantové podpory a poškozování dobrého jména této soutěže grantovou komisí. S patronací MK a dalších veřejných institucí se Cena kritiky koná již 12 let a zahrnuje výstavu finalistů i laureáta na začátku a konci kalendářního roku. Vyvinula se v polaritě s Cenou Jindřicha Chalupeckého, zaměřené hlavně na konceptuální tvorbu a nová media umělců do 35 let. Jejím cílem je hledání nových přístupů k malbě při zachování pevného tvaru obrazu, což má dnes aktuální společenský význam. Cena Jindřicha Chalupeckého totiž začíná být v propojování umění s televizí a s preferencí audiovizuálních show vnímána valnou částí veřejnosti kontroverzně, neboť se vytrácí vztah k pevnému tvaru díla. Mizí i prvek oponentury umělců jakožto antitéze vůči masově sdělovacím prostředkům, přes usilovné proklamace poroty, že jde o hluboké umělecké reflexe. Laureáti Ceny Jindřicha Chalupeckého pak působí nadále v jiných přidružených oborech, kdežto malíři Ceny kritiky zůstávají stálicemi na výtvarné scéně a reprezentují naši kulturu i v zahraničí. Proto se pořadatelé Ceny kritiky důrazně ohrazují proti diskriminaci v grantové podpoře, kdy letos Cena Jindřicha Chalupeckého získala od MKČR až dvojnásobnou dotaci předchozích dvou let ve výši 2 150 000 korun, zatímco Cena kritiky za mladou malbu nedostala vůbec nic.
Pohledem grantové komise je Cena kritiky za mladou malbu pouze zaběhnutým stereotypem, ačkoli pravý opak je pravdou. "Koncepce Ceny kritiky stagnuje a izoluje se od odborné i laické veřejnosti", uvádí komise. Je však tematické zadání Malba a její přesahy, v různých formách prostorové instalace obrazu a multi-mediálním vyjádření vývojovou stagnací malby? A znamená velká návštěvnost a pochvaly v návštěvní knize Galerie kritiků, či vysoká mediální rezonance, nějakou izolaci od veřejnosti? Proč by se jinak hlásilo do soutěže ročně přes 60 kandidátů? Prý má Cena kritiky také "nedostatečné personální zajištění, jež by zvýšilo kreditabilitu projektu". Personální zajištění Ceny kritiky však se početně shoduje s Cenou Jindřicha Chalupeckého, přesahuje počet členů samotné grantové komise, a na rozdíl od ní nezahrnuje novináře ani kulturní manažery, performéry či architekty veřejného prostoru pro zvýšení kreditability svého hodnocení. Jde-li naopak o publicistku s akademickým titulem, působící v obou grantových komisích MK a zároveň pedagogicky i na UMPRUM, je s podivem, že neprojevuje žádnou snahu podpořit úspěchy svých studentů. V roce 2018 získali dva studenti UMPRUM 1. a 3. Cenu kritiky, letos byli čtyři ve finále a jednomu z nich udělena 2. Cena. Alespoň, že pro ně pořadatelé zajistili lepší soutěžní podmínky z jiných zdrojů než MK, což dokládá, že netrpí "nedostatkem reflexe výtek", ale některá minulá upozornění komise si vzali k srdci.
Letošní třešničkou na dortu Ceny Jindřicha Chalupeckého však byla akceptace porna, tj. tělesné performance finalistky Kateřiny Olivové, jež je také hlavní aktérkou Festivalu nahých forem, štědře dotovaného z veřejných prostředků MK. Komise si prý "cení jasného zaměření akce, která v českém kontextu nemá obdoby", avšak podle umělkyně proklamující účelově "porno, kýč a nevkus", umění nemusí mít nic společného s estetikou, ani nic umět. K posouzení dává sociální náměty, spojené se spornou exhibicí nahoty. Avšak odborně vzato, jedná se o anachronismus feministického hnutí, bojujícího za ženská práva ve světě v 70. letech minulého století. Pouze pro zdůraznění své originality používá umělkyně i nemluvňat, aby demonstrovala svobodu kojení matek na veřejnosti ve svém spolku Kojící guerilly. Jde o učebnicový příklad, kopírující slavný vzor skupiny Guerilla Girls ze 70. let, kdy obnažené umělkyně v maskách goril nosily na veřejnost transparenty se zněním typu: "Musíme se obnažovat, abyste nás konečně vzali do muzeí?" Pokud tento typ umělkyň nelze odlišit od civilních sexuálních pracovnic, mají se jejich exhibice pojit s akademickou kariérou a výukou na školách? A jak budou zdaněny, když je z daní poplatníků dotuje i stát?
Tyto exhibice schvalují především členky spolku Skutek, působící koncepčně nejen uvnitř Ceny Jindřicha Chalupeckého, ale také v grantových komisích na MK i HMP, kde rovněž poškozují prestiž a obecně prospěšnou činnost Ceny kritiky za mladou malbu. Byli to však paradoxně jejich mluvčí, jež před třemi roky navrhovali pořadatelům Ceny převést její zázemí na vlastní spolkovou půdu a po rezolutním odmítnutí zahájili její veřejnou dehonestaci. V mnoha jiných zemích vypisuje Cenu kritiky pro mladé umělce přímo stát, u nás ho zastupuje nezisková instituce. Proto její organizátoři dávají váženým představitelům MKČR k úvaze napravit pojetí kulturních hodnot, dosud zatížené snobismem a touhou po světovosti. Třeba to půjde volbou vhodnějších zkušených odborníků, a také je možné vzít si příklad z řešení HMP, kde sporná hodnocení grantové komise kompenzuje přímo město poskytnutím partnerství a individuální účelové dotace. Jinak je totiž obětavé úsilí kolektivu Ceny kritiky donkichotským výsměchem za jeho snahu o dobrou věc.
S pozdravem,
Vlasta Čiháková Noshiro za Sdružení výtvarných kritiků a teoretiků (předsedkyně a kurátorka Galerie kritiků)
- Cestovatelská přednáška o Japonsku -
Dobrý den,
všechny přátele srdečně zvu na cestovatelskou přednášku o Japonsku, společně s panem Miroslavem Donutilem, ve středu 2. května 2018 v 19 hodin, v nové budově Národního muzea v Praze. Shodou okolností vychází právě květnové číslo kulturního měsíčníku Xantypa s Miroslavem Donutilem na obálce a hereckým profilem uvnitř, kde je i rozhovor se mnou o mé práci a o Japonsku, včetně článku o letošní 11. Ceně kritiky za mladou malbu 2018.
Zachovejte nám přízeň, těšíme se na Vás, pokud Vám to bude časově možné.
Přeji hezký májový víkend,
Mgr. Vlasta Čiháková Noshiro Ph.D., kurátorka
Galerie kritiků
Dobrý den,
připomínáme, že Institut umění – Divadelní ústav (IDU) vyhlašuje výzvu k účasti na Akademii Institutu umění 2018. Uzávěrka pro zaslání přihlášek je již tuto neděli.
Vzdělávací program zaměřený na rozvoj klíčových dovedností pro řízení kulturních organizací se v roce 2018 skládá z pěti přednášek, pěti workshopů a společného závěrečného setkání. Tématy letošního ročníku jsou kreativní myšlení, strategické myšlení, strategie budování značky, leadership a fundraising. Akademie je určena vedoucím manažerům, kteří chtějí zlepšit řízení "své" kulturní organizace či stojí na rozcestí a přemýšlí, jak svou organizaci rozvíjet.
Více informací zde.
Výzva akademie institutu umění
DESIGN TREAT CAFE
Výstavní projekt DESIGN TREAT CAFE je o propojení smyslů, o dialogu, o sdílení, o inspiraci, o prostoru, o vnímání jeden druhého, o vítání kolemjdoucích, o týmové spolupráci, o tvůrčích příbězích, o pohoštění a setkávání u dlouhého stolu, o vůni dobré kávy a čerstvého chleba…prostě nejlepší kavárna a Design Shop v centru Prahy, s bohatým doprovodným programem přednášek a videoprojekcí na téma umění, architektura a design.
The exhibition project DESIGN TREAT CAFE is about merging the senses, about dialogue, about sharing, about inspiration, about awareness of each other, about welcoming the passersby, about team work, about creative stories, about hospitality and meeting at a long table, about the aroma of good coffee and fresh bread…clearly the best Cafe and Design Shop in the center of Prague, complemented by a rich lecture program and video projections on art, architecture and design.
DESIGN SHOP
Ateliér K.O.V. (koncept, objekt, význam) se etabloval jako volná kreativní platforma nesvázaná předem danými typologiemi a médii, ale spíše hledá ideální řešení a odpovědi na obecná témata napříč řemeslnými dovednostmi, výtvarným myšlením i libovolným uchopením aplikovaného a volného uměleckého projevu. V našem improvizovaném Design Shopu nabízíme k prodeji výběr ze současné tvorby studentů.
K.O.V. Studio (concept, object, meaning) has established itself as a free creative platform unrestricted by the beforehand given typologies and media, but rather one that searches for an ideal solution and answers on general topics across the spectrum of crafts, artistic thinking and loosely formulated applied and free artistic expression. In our improvised Design Shop, we offer recent works by the students.
Čerstvě pražená káva, chléb Eska a další produkty od Ambiente,
koláče a zmrzlina od Kavárna Hlína.
Freshly ground coffee, bread Eska and other products by Ambiente,
cakes and ice cream by Café Hlína
Informace o programu přednášejících hostů a video-projekcí na téma umění, architektura a design bude průběžně aktualizován na Facebooku K.O.V. nebo na umprum.cz
Information about our program of guest lectures and video projections on art, architecture and design will be regularly updated on K.O.V.'s Facebook or at umprum.cz
Vstup zdarma / free entry
Galerie UM, nám. Jana Palacha 80, Praha 1
VÝZVA K PODÁVÁNÍ ŽÁDOSTÍ na rok 2018 otevřená do 2. dubna 2018
Salzburg Summer Academy of Fine Arts, 2018
Stipendium pro kurátory a umělce na Salzburg Summer Academy
ERSTE Foundation nabízí pět stipendií pro mladé umělce a pět stipendií pro začínající kurátory/kurátorky z České republiky, Maďarska, Rumunska a Slovenské republiky určená k účasti kurzu dle jejich vlastní volby konaného v rámci International Summer Academy of Fine Arts v Salzburku v roce 2018.
Každoročně se na Salzburské letní akademii výtvarných umění (Salzburg Summer Academy of Fine Arts) sejde více než 300 studentů z 50 zemí celého světa a pracují zde v přibližně 20 třídách. Akademie má výbornou pověst založenou na špičkových vyučujících z řad umělců a mezinárodním složení účastníků. Jejím hlavním cílem je podpora širokého spektra umělecké tvorby.
Účastníci Summer Academy Salzburg si ve dnech 16. 7. – 25. 8. 2018 mohou vybrat z nejrůznějších kurzů.

Více informací o kurzech pro umělce naleznete na:
http://www.summeracademy.at/COURSES-2018_230.html



Spolu s dlouhodobými projektovými partnery z tranzit.cz, tranzit.hu, tranzit.ro, tranzit.sk a Igor Zabel Associastion, ERSTE Foundation nabízí toto stipendium a tvoří také porotu pro výběr účastníků.



Stipendium pro kurátory a umělce na Salzburg Summer Academy
- je určeno umělcům a kurátorům stojícím na počátku kariéry
- je zaměřeno na kandidáty z ČR, Maďarska, Rumunska a SR
- pokrývá ubytování, stravu, cestovní náklady a účastnický poplatek v
kurzu.
Informace o možnostech ubytování získáte na adrese:
http://www.summeracademy.at/Accommodation_95.html

Žádosti musejí obsahovat následující dokumenty:
• Vyplněný digitální formulář žádosti obsahující:
- kontaktní údaje: jméno, adresa, e-mail, telefon, webové stránky
- motivační dopis (max. 5000 znaků)
- stručné informativní CV (max. jedna strana)
• portfolio (max. 10MB)



Formulář ke stažení zde:
http://www.tranzit.org/en/grants/summer+academy+salzburg/call-for-applications-2018-now-open-until-2-april-2018
Mějte na paměti
Stažený a vyplněný digitální formulář žádosti je vyžadován, jiné formy žádostí nebudou akceptovány. Přihlášky se přijímají výhradně e-mailem v anglickém jazyce, formátu PDF a to do 2. dubna 2018

Své přihlášky zasílejte na emailovou adresu: office@tranzit.org
Žadatelé, kteří již v posledních letech obdrželi toto stipendium nebo se již dříve účastnili programu Artist-in-Residence ve společnosti MuseumsQuartier Vienna, nebudou mít přednost.

Vaše další dotazy zodpoví paní Michaela Geboltsberger/tranzit.at: geboltsberger@tranzit.org
Websites: www.summeracademy.at/; www.erstestiftung.org/; www.tranzit.org/
-------------------------------------------------------------
Fellowships for Curators and Artists at Salzburg Summer Academy 2018
CALL for APPLICATIONS now open until 2 April 2018
ERSTE Foundation offers five fellowships for young artists and five fellowships for emerging curators from the Czech Republic, Hungary, Romania, the Slovak Republic and Slovenia to take part in a course of their choice at the International Summer Academy of Fine Arts in Salzburg 2018.
Every summer some 300 students from more than 50 countries participate in over 20 classes at the Salzburg Summer Academy of Fine Arts. Well-known artists, curators and critics from all over the world offer courses focusing on topical questions of art production, as well as curatorial practice and writing about art.
The participants can choose from various courses taking place at Salzburg Summer Academy between 16 July - 25 August 2018.
More information about the courses for curators and artists:
http://www.summeracademy.at/COURSES-2018_230.html
Together with its longtime project partners from tranzit.cz, tranzit.hu, tranzit.ro, tranzit.sk and Igor Zabel Association, ERSTE Foundation offers these scholarships and forms the jury to select the participants.
The Fellowships for Curators and Artists at Salzburg Summer Academy
- are designed for artists and curators at the beginning of their career
- address candidates from Czech Republic, Hungary, Romania, Slovak Republic and Slovenia
- cover room and board, travel expenses and the participation fee for the course
For more details on accommodation possibilities, please follow the link below:
http://www.summeracademy.at/Accommodation_95.html
Applications have to include the following documents:
•          Complete digital application form, including the following information:
- Your contact information (name, address, e-mail, phone, website)
- Letter of intent explaining why you apply, what you expect from taking part in the course and why you think you are qualified for participation (max. 5000 characters)
- Brief informative curriculum vitae (max. 1 page)
•          Portfolio (max. 10 MB)
Please download the application here: http://www.tranzit.org/en/grants/summer+academy+salzburg/call-for-applications-2018-now-open-until-2-april-2018
Please note
The correct application form is required (please see above for download link), other application formats cannot be accepted. All documents must be sent as PDF.
Applicants who have already received this scholarship in recent years or have previously participated in our Artist-in-Residence programme at MuseumsQuartier Vienna will not be given priority.
Applications are accepted only in English and by e-mail until 2 April 2018 on office@tranzit.org
For further questions please contact Michaela Geboltsberger/ tranzit.at: geboltsberger@tranzit.org
Websites: www.summeracademy.at/; www.erstestiftung.org/; www.tranzit.org/
VLASTA ČIHÁKOVÁ NOSHIRO BYLA VYZNAMENÁNA ŘÁDEM VYCHÁZEJÍCÍHO SLUNCE SE ZLATÝMI PAPRSKY A ROZETOU
Kurátorce Galerie kritiků a předsedkyni Sdružení výtvarných kritiků a teoretiků, Mgr. Vlastě Čihákové Noshiro Ph.D., byl z rukou japonského velvyslance, Jeho Excelence pana Kaoru Shimazaki, dne 30. listopadu 2017 slavnostně předán "Řád vycházejícího slunce se zlatými paprsky a rozetou", udělený japonským císařem za zásluhy o spolupráci v kultuře. Jedná se o první národní japonský řád, založený v roce 1875 císařem Meidži, pro civilní příjemce japonských ocenění nejvýše dosažitelný, který dosud získalo pouze dvanáct Čechů. Od roku 2003 byl po reformě zpřístupněn i ženám, jednou z prvních oceněných byla paní Věra Čáslavská. Reference k životopisu a činnosti Mgr. Vlasty Čihákové Noshiro Ph.D. naleznete na www.vlasta-cihakova-noshiro.com. Na předvánoční slavnostní přípitek v Galerii kritiků zašleme pozvánku.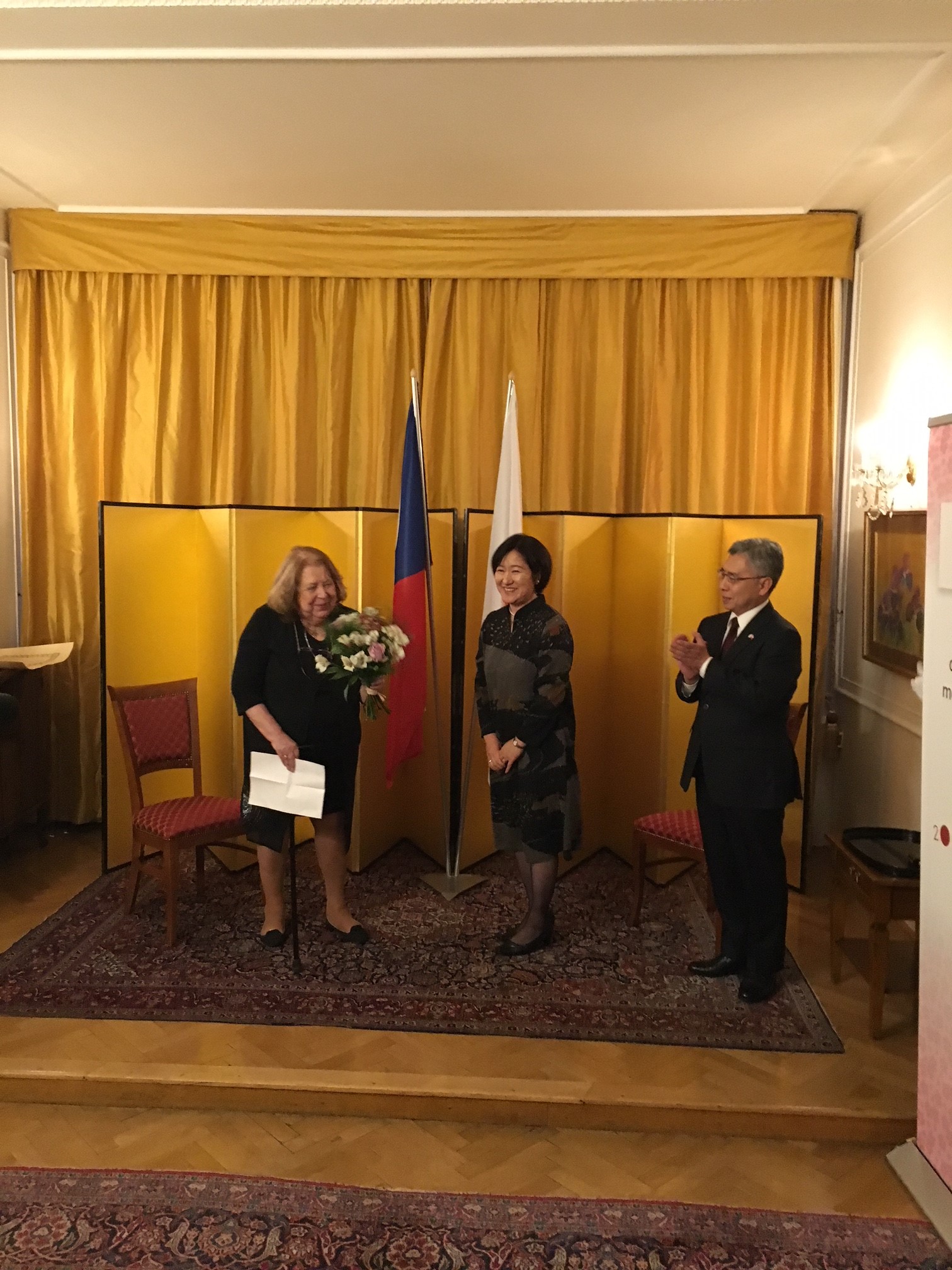 PETICE PROTI SLOUČENÍ GALERIE S MUZEEM V MOSTĚ
Ahoj přátelé, kamarádi, umělci, galeristé, kurátoři a aktivní lidé,
srdečně Vás žádám o podporu ve snaze zastavit sloučení Galerie výtvarného umění v Mostě s Oblastním muzeem v Mostě (podporu můžete vyjádřit v přiložené petici - https://www.petice24.com/petice_slouceni_galerie_muzeum_most). Myslíme si, že toto sloučení bude pro galerii likvidační. Naše komunistické vedení kraje se rozhodlo jako za starých časů postupně likvidovat živou kulturu. Z neoficiálních zdrojů se k nám též doneslo, že v jednání je do budoucna galerii zrušit a propojení vyřešit stálou expozicí Starého Mostu v prostorách nynější galerie. Celé této anabázi předcházelo dosti podivné a nepodložené odvolání pěti ředitelů muzeí a galerií v Ústeckém kraji. Níže zasílám odkaz na několik článků, které se týkají nesmyslného slučování a odvolávání. Na vedení kraje jsme již zaslali otevřený dopis, kde předkládáme odborné argumenty proti slučování. Petici potom předložíme vedení kraje a zastupitelům před prosincovým jednáním zastupitelstva Ústeckého kraje, kde by se mělo o slučování organizací jednat.
Díky za Vaši případnou podporu a aktivní postoj.
Luděk Prošek - galerista, umělec, pedagog
http://hlidacipes.org/cistka-galeriich-moste-se-hledani-noveho-reditele-zhroutilo-kraj-pripravuje-slouceni-galerie-muzeem/
http://hlidacipes.org/pomsta-za-tibet-kraj/
http://www.ceskatelevize.cz/ct24/regiony/2168518-kraj-odvolal-pet-reditelu-galerii-a-muzei-jeden-z-nich-mluvi-o-trestu-za-vystavu-o
http://hlidacipes.org/fraska-chomutovskem-muzeu-odvolany-reditel-vyhral-novy-konkurs-rada-odmitla/
https://mostecky.denik.cz/zpravy_region/kdybych-se-prihlasil-poplival-bych-svou-praci-rika-koncici-reditel-galerie-20171003.html
Academia TOP PAPERS FROM YOUR NEWSFEED
CULTURE ACTION EUROPE

I  New Cultural Challenges for European Cities
II   Urban Postcards from Habitat III
III   Reporting from the Global Front
IV   Culture & Cities: from Infrastructure to Sociostructure
V   Build the City: for the People, with the People
VI   Fun Palaces: Where Everyone is an Artist
VII Reflections on the Future of the City
By Robert Manchin, CAE president and acting Secretary General
We bring to you a collection of reflections on the cultural challenges of our cities. The reason is obvious; in the midst of globalisation we see that it is the cities, where we can crystallise and combine our strength. We will continue the discussions on how to shape the future urban quality of life in our next Beyond the Obvious gathering. You will have a chance to meet most of the authors of this newsletter in Budapest. Together with urban innovators, practitioners and thinkers we will explore ways to strengthen the cultural sustainability of our cities.
What drives this global transformation is migration. European urban growth is also migration driven, making cities more diverse and vibrant places. Next to metropolises, our continent is culturally defined by the rich traditions of the mid and small cities. In the large cities the challenge is how to keep together an archipelago of different cultural identities. While in most smaller cities newcomers and locals are facing the cultural dilemma whether or not to become fully local with a civic pride. Can one preserve its own cultural identity? If a nationstate demands to adhere to a Leitkultur, can attachment to a city be an alternative?
Working across networks we all experience that cities have distinctive identities. Cities have different spirits that provide their residents emotional energy. Urban pride is a key feature of cultural identities today. Cities with a clear ethos can better resist homogenising tendencies of globalisation. It can be worrying when nations proclaim their timeless and organic ideals, but affirming a city´s particularity can be a sign of health.
None of this is new. Aristotle said already that "A great city is not to be confounded with a populous one." Plato added proudly "This City is what it is because our citizens are what they are."
We can work on this together and we can nurture how the civic pride can be oriented towards the future. Hope you find the contributions in the Newsletter as a good resource.
By Julie Hervé, EUROCITIES policy advisor
Many European cities already recognise the importance of culture and the creative industries for local development. Culture is integrated into their strategies in a range of areas, such as innovation, branding, tourism and social inclusion. But developing and implementing cultural strategies that make a real impact to economic development and social cohesion remains a challenge for cities. Several factors need to be in place to deliver the desired results, including: strong political will and leadership, a cooperation strategy between local and regional bodies, cooperation between various local actors from the public and private spheres, and capacity building measures involving stakeholders and experts.
By Jordi Pascual, Agenda21 for Culture
On 20 October 2016, the UN Conference on Housing and Sustainable Urban Development (Habitat III) adopted the New Urban Agenda, a document which is expected to provide guidance on the development of urban policies around the world for the next 20 years.
Why is the New Urban Agenda a significant document and why does it remain a weak instrument? What are the lessons we learned as a global cultural community?
By Nicholas Anastasopoulos, architect and professor at NTUA
We have already passed the tipping point in which more than half of the earth's population lives in urban conditions. As urbanisation is a trend which will only intensify, and as climate change is becoming a threat to life itself, we have entered what is now known as the Anthropocene, a geological epoch identified by a term which recognises the unprecedented impact humans have on the surface of the earth and on its atmosphere. Alternatively this has euphemistically been called the "City of 7 Billion". This means that we need to intensify our efforts and focus much of our research and resources towards a better understanding of the complex and often controversial nature of cities in order to seek answers to the most pressing questions of the urban condition.
By Rosa Pérez Monclús and Carla Schiavone, Culture Action Europe
Culture Action Europe (CAE) actively promotes the inclusion of culture as a pillar for sustainable development. Jointly with a wider coalition of civil society organisations, we advocated for the inclusion of culture in Rio+20 and culture. Advocating for Culture as a Pillar of Sustainability, in United Nations' 2030 Agenda and in the Sustainable Development Goals (SDGs) and recently for its inclusion in the New Urban Agenda. These advocacy efforts remain on-going and so is our learning process. This article is an attempt to analyse the main findings and to highlight some commonalities we found in different initiatives CAE implemented. By doing so we aim to explore and facilitate the development of new cultural policies for sustainable urban development.
By Tsveta Andreeva, European Cultural Foundation
Including citizens and communities in decision-making creates wider support for implementing legislation, providing out-of-the-box solutions and strengthening democratic legitimacy. Culture contributes to this by engaging and inspiring people, challenging stereotypes and catalysing the social revitalisation of urban commons. This is essential for building more equitable and sustainable future for our diverse communities. In 2016, ECF engaged in a mapping exercise of best-practices that culminated in the publication of a Magazine compiling 26 civil-public partnerships based on principles of the commons. Based on the analysis of these cases we can now present evidence of how to build a city for the people, with the people.
By Stella Duffy, Fun Palaces
I write this in the week that Donald Trump has been elected the next President of America. It is four months since Britain voted for Brexit. I write as someone brought up white working class, who is now being told that the white working class, the white poor, the white disaffected made these choices. I look at the statistics and I see this is partly true – but I also see that many wealthy people voted for Trump and for Brexit, some people of colour voted for Trump and for Brexit. The statistics show clearly that many in our UK cities did not vote for Brexit and many in US cities did not vote for Trump. There is a growing divide. After three years of working on our exponentially-growing Fun Palaces campaign I see what we are doing as a step towards healing these divisions.
By Anna Vondracek, Centre for Fine Arts, Brussels (BOZAR)
Like most of its peers, the Centre for Fine Arts Brussels (BOZAR) is deeply embedded in the history and urban fabric of its city. Together with other cultural institutions, civil society organisations, schools, universities and the local and regional political actors, we shape our urban reality and our perception of the city itself. The constant question of "what kind of cultural programming do we need in our city?" goes hand in hand with the question "what city do we want to live in?" These questions have defined our activities in the past and will continue to guide our present considerations and future vision.